Montreal United FC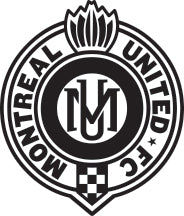 Depuis sa fondation en 2017, le Montréal United FC s'est établi comme un incontournable de la communauté soccer montréalaise.  Il regroupe aujourd'hui près de 200 joueurs et joueuses sénior évoluant tant au niveau compétitif que récréatif.  Le Montréal United FC est aussi le volet Sénior officiel de l'association de soccer Rosemont La Petite Patrie.
 Par le biais du sport, le Montréal United FC fait la promotion de la santé physique et mentale tout en misant sur un esprit de communauté fort.  À chaque semaine donc, les joueurs et joueuses se réunissent pour partager leur passion commune du foot, passer de bons moments et gagner des trophées.
Since its foundation in 2017, Montreal United FC has established itself as a staple in the Montreal soccer community. Each season, it brings together nearly 200 players playing both competitively and recreationally. Montreal United FC is also the official senior club of the Rosemont La Petite Patrie soccer association.
Through sport, the club promotes good life habits while building on a strong community spirit. Every week, the players come together to share their common passion for football, have a good time and win titles.
Montreal United FC